The benefits of mentoring in the business continuity and resilience sector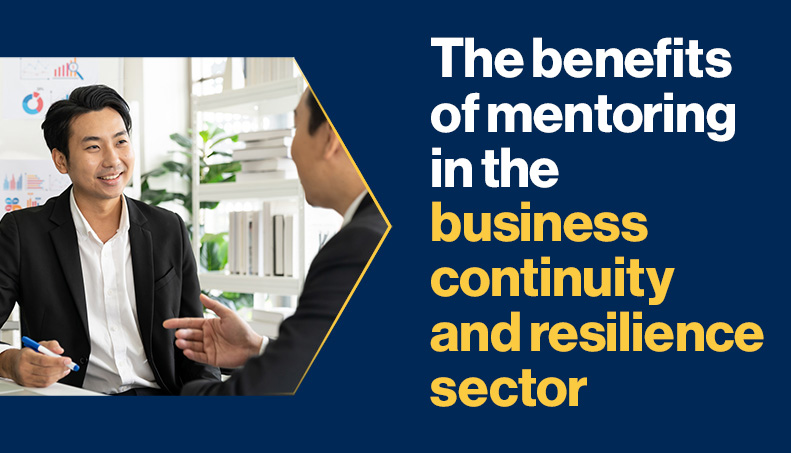 In this article series, we will be examining the value of mentoring, its role in the modern workplace, and discovering new methods of mentoring. Here, we will explore the importance of mentoring in the business continuity and resilience sector.
Navigating the challenges of working in a new sector
In the previous article, one of the noted benefits of mentoring was how it helps to establish a relationship with an experienced professional in the same industry. This is particularly important for those in the business continuity and resilience sector as many professionals may start their career by transitioning into this sector from another, sometimes after being assigned responsibilities for the business continuity function of an organization by senior management. When professionals are introduced into the sector in this manner, it is critical that they build a network of contacts who can assist with guiding them toward best practices in this industry. Having regular contact with an experienced professional who has been on the same journey is a crucial resource. They can highlight the challenges that a new professional is likely to face and the simplest way to navigate these challenges, as well as explain some of the tricks of the trade and give guidance on learning and development.
Guiding on the best routes to knowledge
For example, an experienced professional can highlight training programmes which will help someone new to the industry to familiarize themselves with best practice and how to implement it, as well as which skillsets to build, and which relationships to prioritise within the organization.
However, as the profile of the business continuity and resilience sector continues to grow and organizations appreciate its importance in the long-term resilience of their operations, the number of routes into the profession is also likely to grow. Mentoring can be a valuable tool for supporting those members of the community who are at the start of their careers in the sector from an unconventional background. For example, for professionals joining the industry from an academic background, an experienced practitioner can provide practical examples of their experience with real-life crises and how they respond to mitigate disruption.
Sharing knowledge and best practices
Indeed, sharing knowledge is one of the key pillars of the mentor/mentee relationship and proves to be important in an industry that is constantly growing and shifting in relation to the external threat landscape. Sharing knowledge and best practices with future generations of professionals also raises the overall resilience of the industry and helps to ensure its longevity. It means the skills and learning developed by experienced practitioners are passed on and shared between new entrants to the sector, instead of existing within silos in an organization or a small, finite group of professionals. Continuous learning is key for business continuity and resilience practitioners and this relationship is an enabler in that process.
Enabling resilience in other parts of the organization
Elsewhere, mentoring can also strengthen the culture of resilience within an organization. Business continuitychampions or facilitators – essentially those with the responsibility for business continuity in a certain department – are key roles that instil resilience practices in many areas of the business that the business continuity team may not be able to access otherwise. For those in a "champion" role, a mentor could be a key relationship and provide guidance on the basics of business continuity. Having this relationship with an industry practitioner means that they can learn how to pro-actively build resilience before a disruptive event, but also be a neutral point of contact for advice during an incident. Over time, their role as a business continuity champion could even lead to a career in the business continuity and resilience sector and, where this is established, a relationship with a mentor could be the first step in building a network.
Cross-sector and cross-geography knowledge pollination
In addition, those who enter the business continuity and resilience industry from another sector will have experience in another business, sector – or even geography. This experience can be shared with the mentor as the mentoring relationship does not have to be one-way. This aspect could even become part of the mentee/mentoring pairing process, particularly in mentoring programmes where both parties can self-select their mentor/mentee. In this way, where members are engaged in a practice of continuous learning from each other, the business continuity and resilience sector can become an area of continuous learning at all levels, leading to a richer resilience asset within the organization.
Gaining first-hand advice on how to react to new guidelines and regulations
Mentoring can also assist experienced business continuity and resilience professionals with the ongoing changes in the industry. For example, with the increasing uptake of operational resilience regulations in certain regions around the globe, some practitioners will be experienced in their implementation. Meanwhile, others may be proactively seeking first-hand advice on how organizations have managed this process. Therefore, while this may not be the primary focus of the mentoring relationship, a global mentoring programme can help practitioners learn about the regional factors of one environment and how to prepare for them before it impacts their own.
Access BCI Mentoring
More on