Unleashing the power of resilience with Brian Zawada FBCI, VP of Strategy, Riskonnect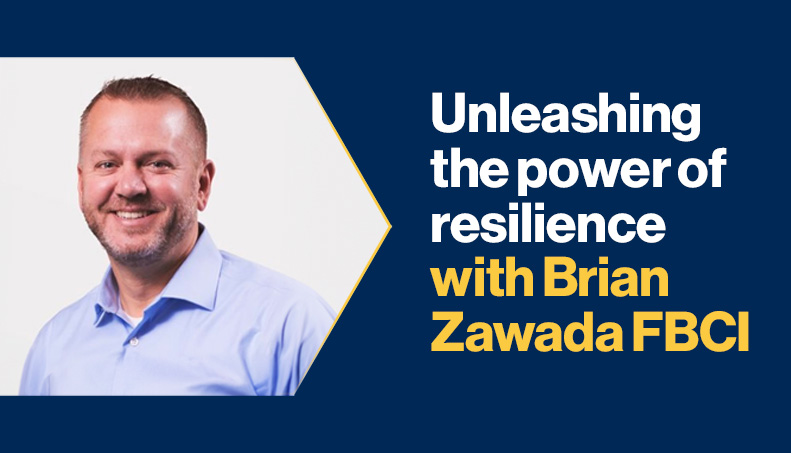 We are less than a month away from BCI World Hybrid 2023 and we had the pleasure to interview one of our keynote speakers, Brian Zawada FBCI, VP of Strategy, at Riskonnect – which we are pleased to have a headline sponsor for this year's conference.
Question (Q): How does BCI World Hybrid 2023 contribute to the business continuity & resilience industry? And why the decision to take the headline sponsorship?
Brian Zawada (BZ): BCI World has historically been THE global event focused on bringing together business continuity and resilience professionals to share ideas and collaborate on what works best to achieve the right level of resilience for their organizations. At the same time, this event propels the resilience professional forward by attracting thought leaders to share leading practices.
Q: What are some of the most important aspects of building organizational resilience?
BZ: To me, three key elements of building resilience in an organization include:
Self-awareness – Understanding how your organization delivers its products and services and the associated vulnerabilities to disruption (e.g., single points of failure), as well as where the organization lacks alternatives, substitutions, and manual workarounds. That's self-awareness and that knowledge is key to building resilience.
Engagement – Influencing key stakeholders to consider resilience when making decisions and taking action. Building resilience is all about the people coming together to be intentional about this key business risk.
Culture – Related in many ways to engagement, having a culture focused on resilience involves considering – or building – resilience into the organization's go-to-market strategy rather than "bolting it on later" and staying ready for any event that could interrupt it.
Q: Can you identify any ongoing trends or key risks that will stop a company from being able to achieve organizational resilience?
BZ: There are so many threats, risks, and issues that could impact an organization; therefore, the answer depends on the context in which it operates. Global versus local, industry/sector, technology-driven, third-party dependent… these are just a few of the influencers on trends. Regardless, managing risk associated with geo-political tensions, extended supply chains, and of course cyber remain top-of-mind concerns for many. Despite these issues and threats, managing organizational change and ensuring resilience throughout remains a major source of risk that should be taken into account.
Q: How do you build organizational resilience into a work culture during times of remote and hybrid working?
BZ: Whether a person works in a business location or a home office, there are essential services necessary to be productive. The workplace is one dependency regardless of where it is and who controls it. Power and connectivity, as examples, together with appropriate security controls, are essential to ensure employees are productive. These essential services are often assumed to be always available, but they should be evaluated just like any other dependency in a risk assessment, with strategies identified to support the execution of key roles when remote work environments are unavailable.
Q: What will your physical and virtual booth feature this year? What can attendees expect from this year's headline sponsor?
BZ: We are excited to meet everyone at BCI World. At our booths, you will be greeted by our friendly colleagues who will be happy to talk to you about how we can help you with all your resilience needs. Our physical booth will also feature live product demos, videos, and a variety of information alongside lots of exciting freebies including our famous water bottles to take away.
Q: Why should professionals attend BCI World Hybrid 2023?
BZ: BCI World is always a great way to connect – and reconnect – to explore leading practice. BCI World attracts the very best and these two days will deliver incredible learning experiences and networking opportunities that you simply can't find elsewhere.
---
Brian Zawada FBCI will lead an engaging keynote session titled 'Change is imminent' where he will discuss and summarise many recent changes impacting organizations, with the nucleus of his presentation focusing on the core outcomes delivered by business continuity and operational resilience. Through this lens, he will discuss how the profession will undergo a rapid transformation in the coming years in terms of people, processes, and technology.
Join Brian and gain insights into the exciting future of the business continuity & resilience profession!
1st November 2023 – 4:45 PM (GMT) | This session will be live-streamed and available on-demand post-event.
If you wish to learn more about Riskonnect products & services join us for BCI World Hybrid 2023 FREE Exhibition. Riskonnect will be present with a stand and you will have the opportunity to meet their team and ask the questions that are important to you.
To register for the Free Exhibition, follow the link below and select 'Free Visitor'.
For more information/questions please email: [email protected]
More on
About the author