Women in Resilience (WiR) Ally Spotlight: Mark Hoffman MBCI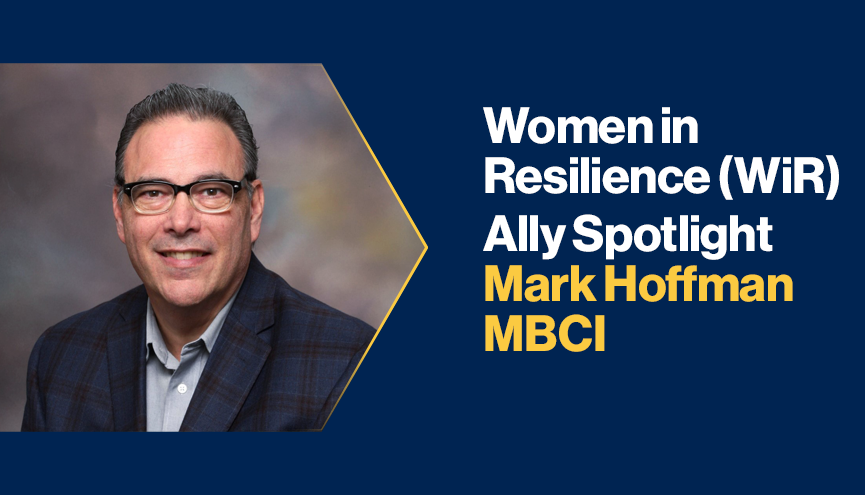 Mark Hoffman is a certified, senior Business Continuity and Resilience consultant, located near Toronto, Canada. He has over 20 years of experience leading clients to be more resilient.
Mark frequently speaks at the industry's largest conferences include BCI World, DRJ and Continuity and Resilience Today. He has been a guest on countless webinars and podcasts and has written articles for several publications. He is the co-founder of the Resilience Think Tank and host of the Resilient Journey podcast.
Mark is the winner of the 2021 Business Continuity Institute's Continuity and Resilience Consultant of the Year for the Americas Region. He is a finalist for the Global Award, to be announced on November 18th.
Mark has clients all over the world and in several industries including insurance, communications, transportation, utilities and logistics.
Q. Why do you believe it is important for more women to join the resilience field?
The most resilient organizations are often the most diverse. Having women in leadership roles in resilience adds a critical perspective to planning, priority setting, response and communications. A more diverse approach to these areas creates a more fulsome response strategy.
As a dad / stepdad to four daughters, I know the importance of nurturing and helping to develop strong, independent female leaders. I've seen first-hand what they can accomplish!
Q. How do you feel that you have personally contributed as an ally to others?
Honestly, this is an area that I'm still developing. While I've always tried to treat everyone fairly, ethically and with respect – I haven't been as intentional about being an ally to others. However, recently a spark has been ignited in me and there are several things in the works that I'm excited about. I'm recording a series on my podcast right now that is focused on diversity. I hope to shed some light on some long-standing diversity problems in risk, resilience and emergency management. The Resilience Think Tank is also dedicated to promoting diversity in our industry.
Q. What are some challenges which you have supported women in overcoming in their career?
I have stood by and stood up for women who were objectified and / or sexually harassed in the workplace, in one instance to my own demise (my contract was ended by the creep doing the harassing). I've called out colleagues and "leaders" who have made inappropriate or sexually charged comments about co-workers. I've worked to promote work done by female colleagues, emphasized their achievements and coached them in areas where they needed help – all to help them be successful.
Q. Which schemes have you seen work effectively in your team and organisation to promote women?
I've worked for clients that had strong female leaders. These organization often had lunch and learn type programs that promoted things like women in technology or other leadership skills. These programs are often led by women and are generally very well attended and supported throughout the organization.
Q. What advice would you give to other men to encourage them to contribute as an ally to women in resilience?
I would encourage other men to be intentional about being an ally to women in resilience. About being an ally to women in general. It's not enough to be neutral. We must develop an intentional attitude about diversity and inclusion.
More on
About the author

Founder/Managing Partner
Catalyst, Consultant, Writer, Thinker. Mark brings over twenty years of business continuity and crisis management consulting experience. Mark carries both the MBCI and CBCP certifications and has a reputation for excellent delivery and execution and is known for having a collaborative approach while developing customized BCM Programs that integrate crisis management, business continuity and disaster recovery. Mark is based in the Greater Toronto Area and enjoys writing / blogging, speaking and consulting.