Women in Resilience (WiR) Spotlight: Nkiruka Joy Aimienoho MBCI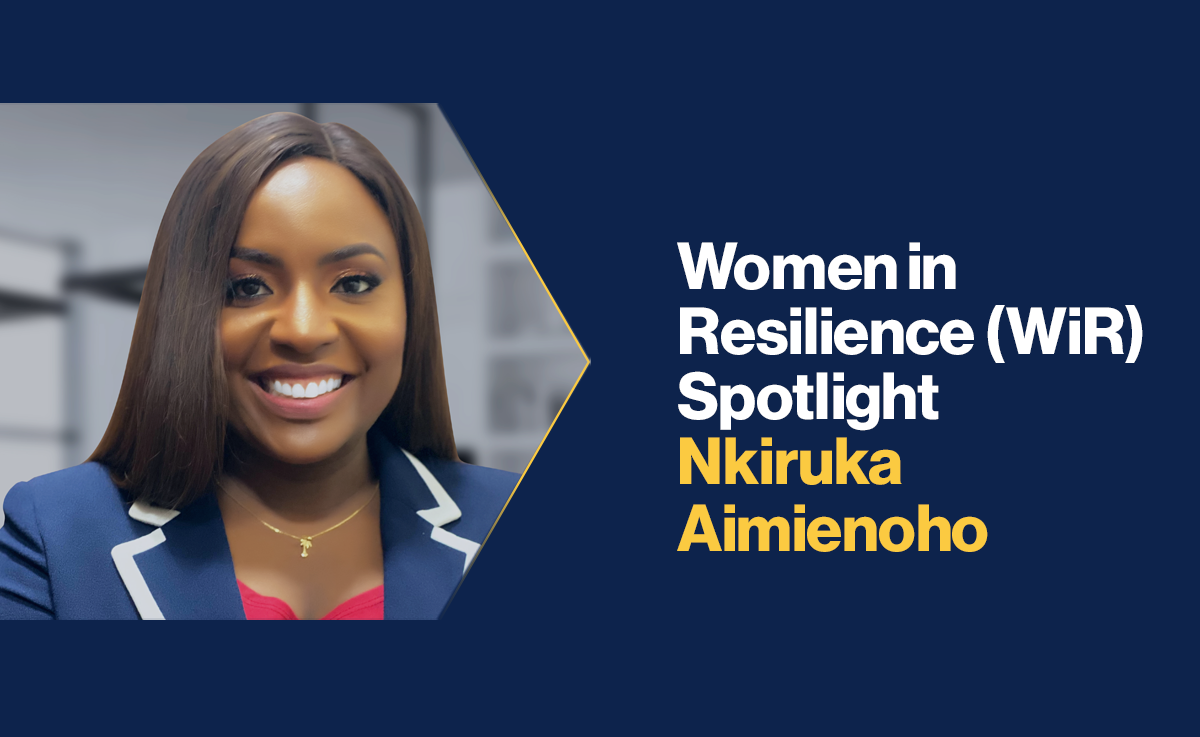 Nkiruka Joy Aimienoho is an award-winning technology executive and an expert in cyber security, resilience, and data privacy. She has led over 100 projects across these disciplines for various industries and top-tier firms. Her wealth of experience in the resilience areas includes; Business Continuity, risk, technical disaster recovery, crisis management (including simulations & exercises), and emergency management. Nkiruka has successfully certified 12 blue-chip firms enterprise-wide programs to the ISO 22301 standard for Business Continuity Management Systems (BCMS).
She currently leads a multi-disciplinary team of cyber security, privacy, and resilience professionals, and is an advisor to executives and boards on cybersecurity, business resilience, and privacy. Nkiruka runs the African Business Continuity Network (A.B.C.N), a platform set to support resilience professionals and help companies build resilience capabilities. Outside of work she mentors, speaks about cyber security and Business Continuity and writes articles to educate people and businesses on both topics.
What brought you into the industry?
I have always been interested in the information security field. My first degree was in Electrical and Electronics Engineering, and my first job was with MTN (Africa's multinational telecommunication firm) as an Information Systems Service Desk Engineer. I soon gathered some experience working with different parts of the company and became fascinated by the dynamic information security field.
I seized an opportunity to discuss my career goals and aspirations with the General Manager of the Information Systems Group, who listened as I describeda vivid picture of the career I wanted which he knew was unattainable at MTN. My desire was to to lead big and distinct Information Security projects that provided me flexibility and variety over daily routine tasks. He advised me to join a niche Information/Cyber Security and IT GRC company. I took his advice and thus began my journey into the Information Security advisory field.
After successfully facilitating many Cyber/Information security projects for clients for a few years, I pursued my desire to master Business Continuity Management (an area I avoided previously). In a short while, I became the subject matter expert in the firm for Business Continuity, technical disaster recovery, multifaceted crisis simulation and exercises, and other resilience areas. I successfully led various enterprise-wide ISO 22301 certification projects, maintenance, and capacity building efforts, which I continue to do.
How did you reach your current position? What challenges did you face?
First, with all sense of humility, I got here by the grace of God and the immense support I continue to get from my husband.
On my part, I diligently built competence, worked hard, cultivated a large appetite for knowledge, stayed curious by putting myself out there and navigating uncharted waters. I always strived to hone my craft by following global Business Continuity institutes like The BCI, amongst other industry bodies within my sphere of focus.
On challenges, early in my career, I was the only woman in my firm who was passionate about Business Continuity. With limited support, I had to read ferociously, learn on the job, and from my mistakes. However, I received support from some remarkable people within the firm and around the globe.
While I had fantastic encounters with my male counterparts, I have had my fair share of dispirited words and opinions from a disparate group of men during my career. A key stakeholder said this to me after I led a team to deliver a large and complex Business Continuity project exceptionally: ''It is hard to believe the project leader was a female", or another ''Seriously, you facilitate Business Continuity certification training?" I responded to him by confidently describing my portfolio and the remarkable feats I had accomplished in my career.
Years ago, I got that look before a class or project that said ''Oh my! our instructor is female" or "our team lead is female." Instead of allowing these things to discourage me, I continued to give my best till I got to where I am today. With time the looks soon turned to admiration after I demonstrated my expertise and competence - I received positive feedback.
Over the years, I have consistently gotten humbling remarks, fabulous feedback, and accolades, which came - only after given a chance to demonstrate my abilities.
Which specific skills do you think are needed to become a leader in your field?
An essential skill will be diligence in building competence. Also, genius leaders harness and leverage the genius of many, so I will add - the ability to create diversified teams. When we strive for mixed thoughts and the inclusion of different perspectives, we get a vibrant ecosystem of provocative insights and understanding, which brings out the best possible outcomes.
Additionally, having an enormous appetite for knowledge, decisiveness, and the ability to be assertive is vital. Mastering the art of communicating technicalities in simple terms, teamwork, and networking skills are also pivotal to becoming a leader in this field.
Do you think that the BCI WiR initiative will influence our industry? If yes, how?
Yes, I was excited in the wake of the Women in resilience (WiR) initiative because Women in Resilience have limited groups that help them to join the industry, support them, and advance in their careers. I believe the WiR initiative will help attract more women into the resilience industry, support, and champion those in the field to become leaders and advance in their careers.
Ultimately this will help the industry achieve better-results and aid its talent pipelines to attract, develop, mentor, sponsor, and retain the next generation of global resilience leaders at all levels.
What changes would you like to see in the profession?
I would like to see more creative ways to drive the awareness and adoption of Business Continuity and resilience programs. The perception out there is that it is challenging and complex.
Many people do not find the profession fascinating, and it stops them from seeing it as a viable profession to pursue. One reason could be the way we sell or portray it.
In your opinion, why should more people be joining the resilience community?
More people should take active steps to join this fabulous resilience community because there is something in it for everyone. With interesting disciplines that include, but are not limited to, Business Continuity, crisis management, emergency management, security, disaster recovery, risk, enterprise, and organizational resilience.
It offers flexibility, meaningful work, good remuneration packages, job fulfillment, and the opportunity to live your dreams. Its effort serves the greater good, and for people who love solving complex problems – it presents the ultimate challenge.
More on