Women in Resilience (WiR) Spotlight: Winifred Ndukwe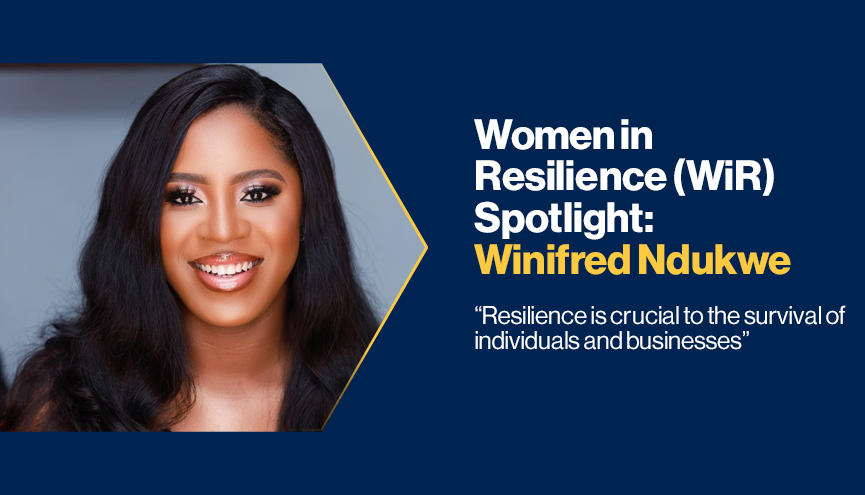 "Resilience is crucial to the survival of individuals and businesses"
A passion for control functions and solving problems led Winifred Ndukwe to study accounting as her first degree in university and then start her career journey into Risk management and Security. "The spontaneous nature of Resilience quickly caught my eye and I have been in love with it ever since" she says.
Winifred - a professional with a highly analytical mind, result driven, adaptable, with a passion for innovation - is a Business Continuity, Crisis Management and IT Service Continuity expert with experience that cuts across Operational Risk Management, Information Risk Management, Environmental and Social Risk Management, Occupational Health and Safety and Business Analysis.
In her current role, she oversees professionals across Latin America, Europe, Asia and Africa in the development and implementation of Operational Resilience frameworks and processes. She also provides expert opinion to top executives, management, and board on Operational Resilience topics.
As an Operational Resilience Manager, Winifred explains that sometimes she feels "like a military first responder of the professional world, that charges into a battlefield to fight when everyone else is running at the opposite direction" - and this has greatly influenced her decision to always be available to help in the event of any crisis. She says, "It has led to my dedication, focus, readiness, and passion to always provide support and constant attention to details, which is required to effectively deliver on my responsibilities."
To efficiently deliver the job, Winifred has been committed to constantly researching and taking learnings from other professionals, real-life incidents, and crises to ensure she is constantly aligned with global best practices within the industry.
"My journey has been shaped by the challenges I have faced over the years" she says, and these included the constant feeling of unease & uncertainty experienced during a crisis, taking care of herself while taking care of others, and getting stakeholders engaged to tackle risks & incidents before they escalate into crises. However, Winifred keeps a positive attitude towards these challenges and says, "these challenges opened me up to understand how I must learn to prioritize taking care of myself at every point and improve my level of self-awareness & collaboration with stakeholders through courses and lectures from various expert coaches globally."
When it comes to events that have impacted Winifred 's career, she lists the 2002 Ikeja Cantonment Bomb blast in Lagos, the 2010 Jos riots- religious violence and the 2020 #EndSars Protests in Lagos. However, the 2020 COVID-19 pandemic was a turning point for Winifred - she refers to it as the "Ten in One", meaning ten years experienced in one year. She explains that as the pandemic impacted businesses, jobs, and families across the globe, it also tested plans, procedures, and processes for the very first time and "changed how business operations are and will be performed on a global scale."
Winifred strongly believes that "Resilience is very crucial to the survival of individuals and businesses" and lists some of the essential skills to her are imperative in leading in resilience:
Forecasting – Being able to predict and anticipate possible triggers that could lead to disruptions and crisis based on various factors within the business environment such as regulatory, social and political.
Proactivity – Once top risks/triggers have been identified, it is pertinent to begin to implement controls with a sense of urgency ahead of a disaster
Flexibility – Since we know that no two crises are the same, it is important to be willing to be flexible and change implemented controls if need be to suit the peculiarity of the crisis
Adaptability –This is the key to continue to operate in an ever-changing environment.
Preparedness - As a resilience leader, one must always be mentally, physically and emotionally ready to respond effectively to a crisis/disaster.
Precision in Response – Time is of the essence. In the face of crisis, one must be ready to make exact decisions quickly.
Beyond this list, Winifred also stresses the importance of wellbeing for resilience professionals. She explains that one of the major changes she would like to see in the industry is "professionals taking intentional and conscious steps to ensure their all-round wellbeing" adding that it is easy "in this profession to care more about taking care of everything else except oneself."
On a more 'resilient note', she would like also to see professionals that are able and ready to adapt to the "spontaneity of a crisis by training their response ability rather than high dependencies on generic plans & procedures which may/ or may not be handy in a crisis." She also believes, "for an organization to be considered resilient, everyone, from the CEO to the Janitor must have the resilience culture and be hands-on in the preparation, readiness, and response process."
When it comes to the BCI WiR initiative, Winifred believes that it is a great community that brings "professionals across diverse ethnicities and backgrounds to collaborate better and further develop the industry." She also adds that "it is a perfect platform for members to share knowledge, provide a support system for anyone who needs any level of aid, communicate industry specific trainings, forums and seminars and be a source of influence to members on a steady journey of self-realization."
More on