BCAW round-up 2023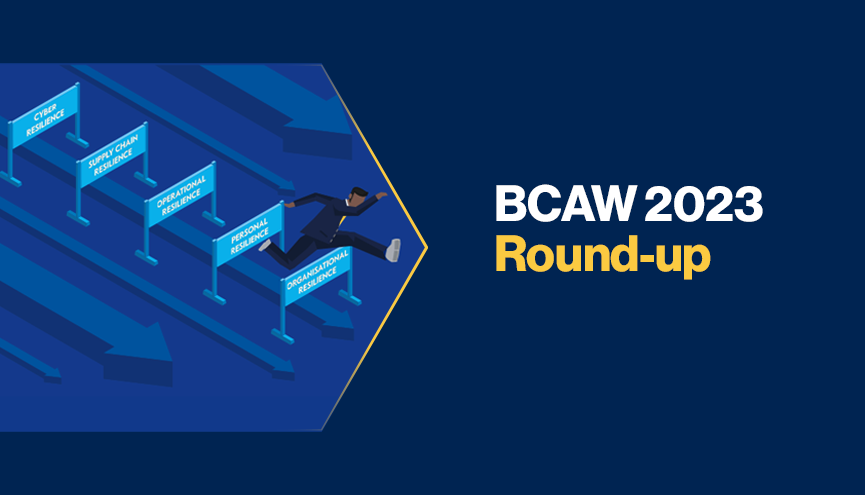 This year, the BCI's highly successful Business Continuity Awareness Week (BCAW) campaign ran between 15-19th May. The campaign is vital in that it continues to raise awareness of Business Continuity (BC) and Resilience, as well as the issues that are critical to these sectors. As part of BCAW, a wide range of resources related to BC and Resilience, as well as various related disciplines, are made available to professionals and organizations across all industry sectors.
BCAW 2023's main theme was: "Embracing the challenge of Resilience." Although, for the first time, each day covered a different area of the Resilience discipline. These daily themes included:
Cyber resilience
Supply chain resilience
Operational resilience
Personal resilience
Organizational resilience
Breaking resilience down into these respective parts meant that we could showcase the dedicated resources which were created to improve awareness in these areas. The full range of these resources are shared below.
BCAW resources offered by the BCI
The webinar programme for BCAW 2023 featured 17 presentations, not including the 3 launch webinars for our new Operational Resilience report. We had more than 2200 registrants for the webinars this year, with sessions offering a huge diversity of thought from 'how IT can support resilience across organizations' to 'how personal resilience can be a superpower.'
It was rewarding to see these sessions full of engaged attendees, who drove engagement between speakers and the audience by interacting and giving a voice to questions likely shared by many participants. This was also helped by an internal switch to a new platform to host the webinar programme. We found that switching to Zoom for these webinars ensured that they were more user-friendly and encountered less technical issues.
For the first time, we also released member-only content as part of BCAW. The 'Organizational Resilience in the Workplace' white paper was the result of a focus group held with several respected professionals in the field to discuss awareness-raising activities and methods, champions and facilitators, factors that boost resilience appetite, and resilience language and outreach to non-technical audiences. For example, if you would like to find out more about activities which can create a culture of organizational resilience and the challenges many will face in this process, this discussion is a fantastic starting point.
In addition to this, we coordinated across the BCI in order to release the Operational Resilience Report 2023 so its findings could be shared and distributed as part of BCAW's Operational Resilience theme on Wednesday, 17th May. As ever, this report has made a significant impact in the sector with one of its main findings appropriately finding "that management appreciation for the importance of the presence of an operational resilience programme has increased since last year." This was further backed up by an increase in "the understanding, adoption, and development of operational resilience programmes during the past year." These encouraging signs show the criticality of awareness programmes within BC and resilience to ensure that understanding of these key areas is maintained and actively improves over time.
The content released during BCAW was further bolstered by a full complement of blogs submitted by professionals in the industry. The 14 blogs worked as interesting and personal snapshots from across BC and resilience, where we can read how resilience professionals are advocating for the benefits of resilience in their own environments. Demonstrating this, the eclectic mix of insights included looking at the challenges of implementing an operational resilience framework within public debt management offices — the agencies responsible for raising financing, debt servicing, and managing the costs and risks of the government's public debt portfolio — while another blog considered how to maintain resilience as the usage of electric vehicles becomes more widespread.
We also produced 4 long-form articles, each exploring one of the daily themes in further detail:
These were created with the support and insight of professionals in organizational psychology, supply chain, cyber resilience, amongst others, showing the benefits of a cross-sector approach to these issues.

Feedback on our long-form article on cyber resilience

Feedback on our long-form article on supply chain resilience
Moving away from written content, we also prepared the BCAW 2023 Toolkit which included downloadable resources, such as an email header, Teams backdrop, and screen saver — all specifically designed to drive the key goal of this week and build awareness of BC and resilience. Another tool to increase awareness was the BCAW 2023 posters, which again proved highly popular this year. Each poster was tailored to one of the daily resilience themes and provided straightforward tips that personnel can implement in their daily work routine.
Another exciting element of BCAW was making the BCI's Simulation Game free to access over the course of the week. The feedback for the game was overwhelmingly positive, as users got to experience our immersive simulation of a cyber-attack. The simulation sees players enter the key roles of Incident Manager, Head of IT, Head of Communications and Managing Director during a cyber-attack. As part of this, it uses a realistic virtual desktop and delivers scenario injects via communications channels, such as through emails, phone calls, breaking news and social media, etc. Practitioners will be aware that exercising scenarios and testing plans are critical components of increasing awareness of BC and resilience across an organization, therefore, by using this resource, participants could actively engage in this practice.
On top of this, we put together a resilience questionnaire which was designed to help embed resilience concepts within an organization. As such, the questionnaire consists of a series of questions related to BC and the different areas of resilience highlighted above (Cyber, Personal, etc). For example, the questions included:
Are you aware of the Business Continuity response structure and your roles and responsibilities within it?
Do you have a method/or know how to communicate with your managers should an incident/disruption occur?
How the questionnaire is applied depends on your organization and personnel, but in addition to being used during BCAW, some of the questions could be integrated into an organization's induction process or within staff training sessions to increase awareness and understand the current landscape of BC awareness within your organization.

Feedback on the resilience questionnaire
The impact across the sector
While we were pleased to see a significant amount of engagement with the BCAW campaign through LinkedIn and other social media channels, where professionals shared and commented on BCI resources, it is also important to recognise the impact of BCAW across the sector. This year, it was clear to see how other members of the BC/Resilience community were using this opportunity to share additional resources and drive the conversation forwards by posting and tagging the BCI or the BCAW hashtag.
Since it is an occasion to increase awareness of this sector, the many voices within it, as well as the themes and topics that drive it, it was fantastic to see this conversation developing online and we hope it continues.
Special thanks
We'd like to thank Riskonnect for sponsoring BCAW 2023. We'd also like to thank all the contributors to this special event, including the speakers, interviewees and blog authors from the BC/resilience sector and beyond.
More on
About the author