UK Supermarket disruption prompts exemptions for key supply chain workers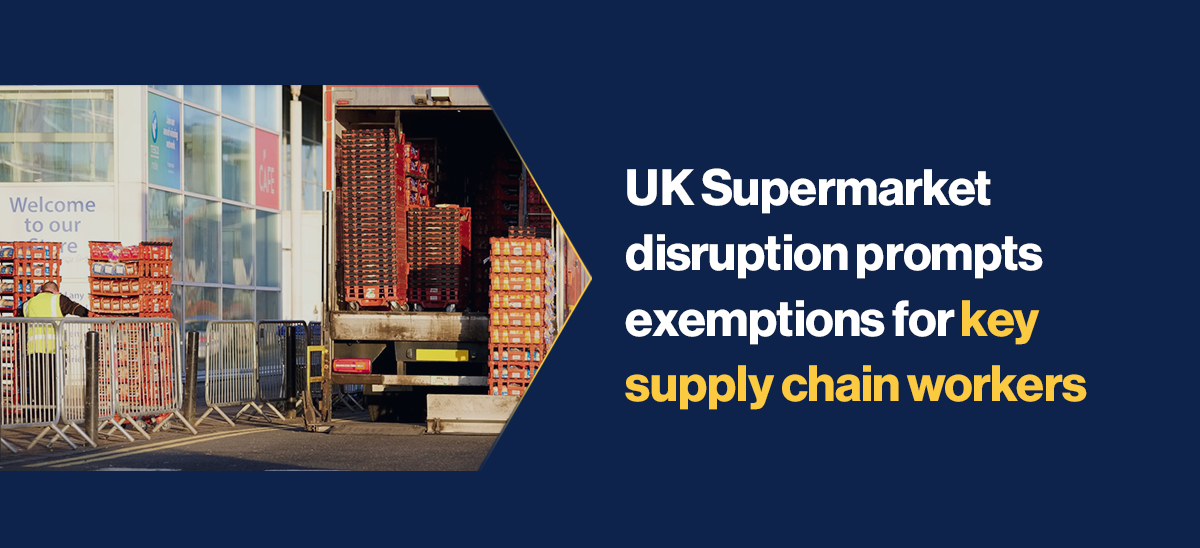 Staff from top Supermarket depots and food manufacturers will be exempt from self-isolation rules amid food shortage panic
The UK Government have announced that workers from top supermarket distribution centres will be exempt from self-isolation following a negative covid test. After many of Britain's warehouse workers were contacted by the 'COVID-19' app, many were left self-isolating.
Environmental Secretary, George Eustice MP told Sky News "We recognise that there are some staff absences in the food supply chain so what we are announcing is for some of the top 400 sites things like supermarket depots and some of the key food manufacturers we are going to change the system and enable them to test to return to work".
He went on to say that any warehouse or manufacturing worker who is contacted by the test and tracing app will be able to have daily contact testing for seven days and will be able to carry on working providing their test remains negative. Up to 10,000 workers could benefit from these exemptions which do not trickle down to supermarket workers.
The UK lifting of COVID measures came at a time when numbers were beginning to rise, causing a surge in the number of people being told to isolate. The latest figures for England and Wales show the app had told up to 620,000 people to isolate from July 8 to July 15.
This has impacted Supermarkets with some noting limitations of some products.
The staff shortage has also affected logistics leaving UK Head of Freight for Air Partner, Richard Jubb, predicting an increase in chartered air cargo flights. He told Air Cargo News, "Previous complication to goods logistics due to both Covid and Brexit has seen our enquiries for airfreight increase by 60% to meet demand for orders typically fulfilled via sea and road transportation."
"We expect this trend to continue in the short-term as frontline workers continue to be affected by the 'ping-demic' before rules change around self-isolation from August 16 onwards, to alleviate increasing pressure on UK businesses."
More on
About the author

Journalist
Lisa Hanley is an In - house Journalist working for The BCI. With a Masters degree in Televison Journalism from City, University of London, Lisa has previously worked as a Freelance Producer and Journalist for London Live, PA Media and Thomson Reuters Foundation. Her experience varies from producing documentaries, films and podcasts, to producing news packages for television and voiceovers for radio.